Our ability to produce the vast majority of our work on-site allows us to personally guarantee the quality of the finished products. Whether you're looking for fliers, postcards, letters, posters, sales tags, programs, catalogs, magazines, business forms, business cards, stationary or envelopes, we can provide it for you at a reasonable price and with our assurance that you will receive a quality product and superb service.
Contact us to learn more about the many products and services we offer.
Products

Banners
Business Cards
Catalogs
Decals & Cut Vinyl
Envelopes
Fliers
Magazines
Magnetic Signs
Mailing Lists
Newsletters
Notepads
Postcards
Posters
Programs
Sales Tags
Stationary

Services

Artwork & Artwork Adjustments
Collating & Booklet Making
Die-Cutting
Inserting
Live Stamps & Tabbing
Mail Addressing & Barcoding
Mailing Lists
Mailing Services
Marketing Services
Piece Design
Professional Proofreading
Variable Data Letters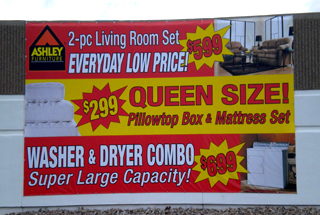 15' x 30' Custom Banner by Lang Printing
---
---
Need a Quote?
If you have an idea, contact us, and we'd be happy to give you a quote and answer any questions you might have.
Contact:
(480) 446-8300 1-800-976-6099 Fax: (480) 446-8305 Email: sales@langprinting.com 1505 E. Weber Dr. #10 Tempe, AZ 85281